Meet Jackson
Meet Jackson, age 30, with parents Jean and Leafy
Southern California
Living with ARG1-D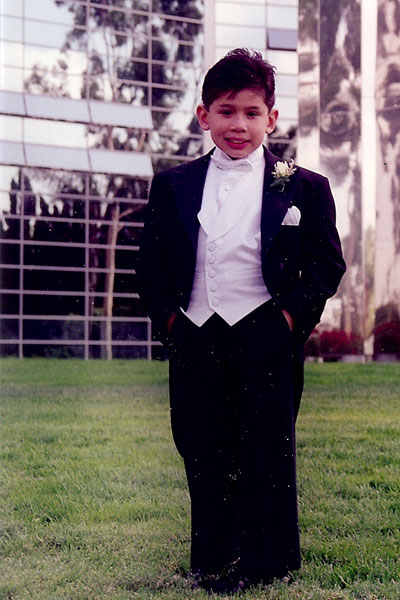 Jackson, age 30, is a self-described cooking fanatic. It is a joyful family experience, involving his mom Jean and stepmom Leafy, bringing this already close-knit family even closer together. "I love to make Thanksgiving dinner, with all the fixings," Jackson explains. "But on my plate, there won't be any turkey of course and I select my side dishes very carefully."
If Jackson doesn't choose what he eats carefully, the medical consequences are severe.  Jackson lives with Arginase 1 Deficiency (ARG1-D) a debilitating and progressive inherited metabolic disorder affecting children, teens, and adults that can significantly impact a patient's health over time.
Jackson was born with ARG1-D, but it took the family nearly five years to get a diagnosis.  "When Jackson was a baby, he slept a lot and we were delighted to have such a 'good' baby," recalled mom Jean.  "But we started having some concerns."  Jackson did not nurse, and he was prone to vomiting when exercising or laughing at cartoons on television.  At first, Jackson's pediatrician was not concerned. But when other physical symptoms emerged – toe walking, falling easily, and more vomiting when he exerted himself – Jackson was finally sent for metabolic testing.
Late on a Friday, Jean and Leafy anxiously waited to learn officially what was happening with Jackson. "I knew something was not right," said Leafy. "They kept testing his blood and he had an extraordinarily high amount of ammonia in his urine." Finally, the physician had the diagnosis of ARG1-D.
ARG1-D is characterized by complete or partial lack of the enzyme arginase in the liver and red blood cells. Arginase helps to break down and remove nitrogen from the body. The lack of the arginase enzyme results in excessive accumulation of nitrogen, in the form of ammonia, in the blood and arginine in the blood and cerebrospinal fluid. Children may exhibit seizures, spasticity, short stature and intellectual disability. The reason why Jackson had slept so much as a baby was likely that excessive protein was causing him to go into long stretches of comatose state. "He was not simply a good baby sleeping peacefully," said Jean.
Jean and Leafy had vastly different reactions to hearing Jackson's diagnosis. For Leafy, "It was a surreal experience. It was like I was hovering from above and listening to a conversation someone else was having. And then I started to panic." Jean's reaction was calm. "I thought, okay protein is making him sick, we have to figure out a way to cope. We can fix this."
While much still is being learned about ARG1-D, back in the late 1990s when Jackson was diagnosed there was even less guidance for patients and caregivers. "We were told 'don't give him protein' and then sent on our way," said Leafy.
Jean and Leafy struggled for many months to care for Jackson appropriately, given the limited information available about ARG1-D. While trying to manage the diet, Jackson's weight dropped precipitously, he continued to vomit regularly, and he suffered from spasticity. In addition, while Jean and Leafy tried to manage the care of their son, they also endured judgement from others. One doctor suggested their own anxieties were possibly making Jackson sick, not ARG1-D. And at a rest stop during a family vacation, an onlooker became upset when the women were limiting Jackson's food despite his pleas for more and threatened to call police. "It was a long and lonely journey not knowing what to do," said Leafy.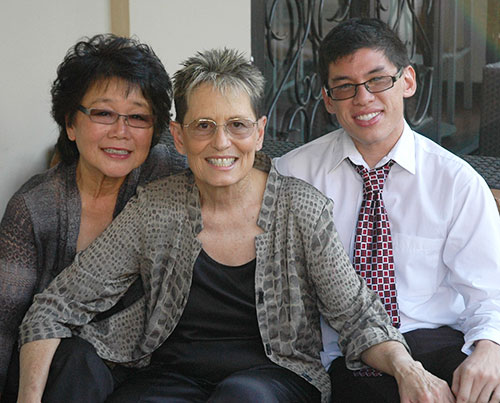 Eventually, Jean and Leafy met another family also caring for a child with ARG1-D. The family became a source of support and strength and introduced them to a physician who would change their lives, Dr. Stephen Cederbaum, a geneticist from UCLA that they are still in touch with 26 years after meeting him. Dr. Cederbaum established a treatment plan for Jackson consisting of nutritional drinks, a limited diet, leg injections to help with spasticity and much more.  Until he was in grade 7, Jackson needed to eat his lunch alone in the principal's office so he would not come into contact with peanuts (an allergy diagnosed as an infant) or potentially eat high protein foods. He could not go on school field trips without Jean or Leafy, and playdates and sleepovers were arduous to plan.  Jackson also had to go for physical therapy to learn simple tasks like how to tie his shoes and button his shirts.
Today, Jackson still follows a similar diet and routine as he had as a child, though therapies to potentially treat ARG1-D are now in development. When he is not cooking with his family, Jackson works at Amazon and enjoys music, art and playing his guitar. He follows a strict diet and the instructions for managing ARG1-D very carefully. In his 30 years he has learned many lessons. "Do you own research, but don't pretend that you alone are the expert," Jackson advises. "Listen to what you're told to do, and don't give up or become complacent." Jackson hopes to see a treatment approved to treat ARG1-D in his lifetime, as he lives with the many restrictions and side effects of this rare disease. He appreciates the researchers and healthcare providers who have devoted many decades of study into ARG1-D.  "We have learned so much over the past 26 years." Jean and Leafy are very proud of Jackson's accomplishments.  In 2014, he graduated from California Baptist University with a Bachelor of Art in graphic designs.
For Jean, she offers advice for families who are new to ARG1-D. "We went to so many doctors until we found the ones that worked best for us," she said. "Don't' give up or settle, find the right doctor and create a team of specialists that will work together. And yes, you will need a lot of specialists." She also offers practical advice for parents and other caregivers:
Get your child used to the taste of the formula early. They need it and they will become accustomed over time like Jackson did.
Always make and keep all doctor appointments.
Meet regularly with several specialists: metabolic specialist, orthopedic surgeon, ophthalmologist (not optometrist), dentist, and physical therapist. Also, see a neurologist if your child has seizures.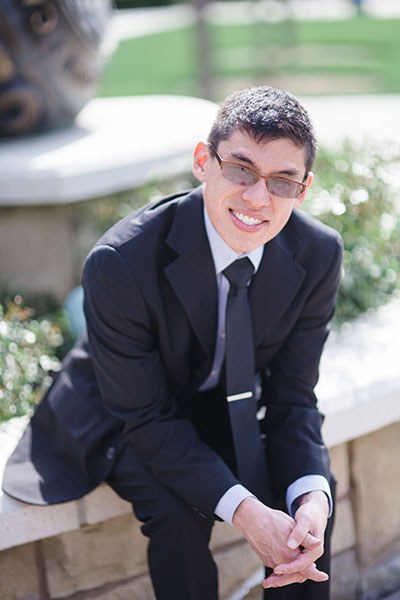 The family remains eternally grateful for finding and connecting with others living with ARG1-D, as the community has grown over the last two and a half decades. They recommend reaching out to community groups like the Arginase 1 Deficiency Foundation for support, an organization Jean, Leafy and Jackson all give back to today. "We have been through it ourselves and we know what it's like," said Leafy. "We are there for each other 24-7. That's what you do when you are part of a family. It does not end with a conversation. We continue to think about them."
Jackson added, "We want to give hope to those who need it. You were given a bad hand, but you can play your cards right. Listen and make the right decisions, and let people help you along the way."